What's the best way to set up a Windows 10 machine?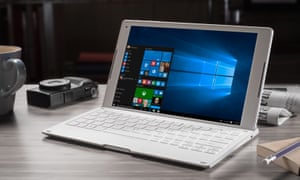 My daughter has asked for a Windows laptop for Christmas, for schoolwork and games. I'm a Mac user and haven't set up a Windows machine for many years so I'd appreciate any advice … except "get her a Mac/Linux" from below the line! Stuart
Windows has changed a lot in the past decade, and now it's a mobile operating system. If your daughter has some experience with Google Android, she'll probably cope quite well. Many of Windows 10's main features came from the mobile world. These include sandboxed apps installed and updated from an online store, log-on PINs, touch screens, notifications, a voice-aware intelligent assistant (Cortana), location awareness and a "Find my device" feature.
Your daughter should ideally have some information ready before going through Windows 10's "out of box experience", or OOBE, as it's known in the trade. Some are obvious: country, preferred language, time zone etc. She should also have your Wi-Fi password, and a working email address for her log-on. Otherwise, she can choose Express Settings to speed up the process. She can change the settings later.
Microsoft Accounts
Your daughter can use any email address as her Microsoft account (MSA). It's the Microsoft equivalent of a Google Account (Gmail address) or an Apple ID. It's used to link her laptop to OneDrive cloud storage, the Windows Store, Skype, Cortana's personalisation data, the free online Microsoft Office programs etc. It also links her PC to other Windows devices, Android and Apple smartphones and tablets, Xbox One games consoles, and so on. Finally, the MSA stores the laptop's activation details (which used to be a product key) and encryption keys.
People typically use an existing Microsoft email address. This can be at Hotmail, Live, MSN, Outlook.com or whatever. If she doesn't have one, the Windows 10 set-up procedure will create one. However, it's simpler and less stressful to have one ready to go.
When your daughter enters her email address and password, Windows 10's Mail app will automatically download recent emails. If she has used this account on a Windows machine before, Windows 10 will offer to set up her new laptop with the same settings. This includes her wallpaper (desktop background) and any apps she has downloaded from the Windows Store.
Once logged on to Windows 10, click the Start button in the bottom left, type 'get' in the Search box and click the "Get Started" app. This introduces most of Windows 10's features, and includes around 50 short videos. The What's New section covers Cortana and the Edge browser. I strongly recommend watching Reduce Distractions, a two-minute video in the Ease of Access section. It shows how to remove unwanted animations, tiles, pinned programs, and so on.