Indie video games saved my 2016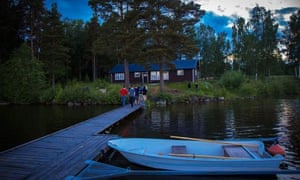 Over the summer, I spent a month at Stugan, a Swedish "game development acceleration camp". That may sound like a faintly sinister concept, but it was in fact stupidly idyllic. The eight-week event, organised by alumni from game publishers Rovio and King, took place in adorable red wooden cabins perched on a hill overlooking a lake – apparently called "Bjursen", although we just called it The Lake, because we couldn't pronounce anything correctly. While not working on our game development projects, we watched meteor showers from a nearby mountaintop, swam beneath the Northern Lights, and sat around a campfire getting sloshed on schnapps.
The Stugan attendees were from all over the world, but we'd ended up in this tiny corner of Scandinavia, brought together by the one thing we shared: the desire to create and play video games. I turned up three weeks late, and already an outsider as the only journalist, but within a few days I felt like I'd been welcomed as one of the team. There with me were people like Ivan Notaros, an incredibly talented Serbian developer who was ostensibly making a game called House of Flowers based on his experience and knowledge of the war in Yugoslavia in the 90s, but spent much of his time making tiny games, procedurally generated art, and incredible low-res photogrammetry of us as a group. There were Michael and Laura, a married team who were making a game despite being animators rather than programmers, using their artistic style to inform what their project, Thin Air, would become.
Auston and Diana, another couple, were making Catdate – a game that seems like a simple dating sim (but with cats) but revealed itself to be a touching, meaningful exploration of connection, friendship and learning how to communicate with others. Robbie, Dorianne and Marc, the only three-person team, all from South Africa, were working on Kingdom in the Sky, a project they'd been unable to work on for months because of their full-time jobs. Mira and Tanja, a team of two women, one Swedish and one Danish, collaborated on their two-player game Tick Tock, when they weren't playing incredibly tense rounds of Magic: The Gathering. The trailers of these games, and the others made during Stugan 2016, are all worth watching.
It's largely because of Stugan that I've started making my own games. My first – Awkward Dating Simulator – has been downloaded over 1,000 times already, which is amazing and terrifying. Next year, I'll be taking part in Train Jam – a 52-hour train ride from Chicago to the annual Game Developer's Conference in San Francisco, where developers make games as the scenery rushes by. I'm doing it just to be around those people and that feeling again.