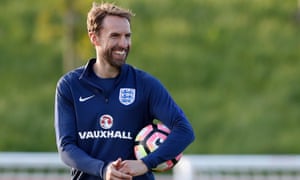 "Bring it on, lads," Sam Allardyce exclaimed at a press conference three days after accepting the job of managing England. So they did. And 64 days later he was gone.
The "lads" had wiped him out, turning him into a candidate for a spectacular entry in the Guinness World Records. Allardyce became the recipient of the largest amount of money ever paid to a man for supervising a single game of football: about £550,000 in salary over the two months, plus a reported £1m in "compensation" for £6m he had been due to earn under the terms of the truncated two-year contract.
To the FA's outlay could be added the £3m they were required to pay Sunderland for securing his services in the first place. That made it four and a half million quid for two halves of very unsatisfactory football barely redeemed by a lucky 95th-minute winner. In itself the match represented perhaps the most unimpressive debut by an England manager since the autumn of 1977 when Ron Greenwood, given temporary charge – despite a popular clamour for Brian Clough – after Don Revie's sudden retreat to the United Arab Emirates, packed his team with seven Liverpool players and watched them fumble and fret to a goalless friendly draw with Switzerland at a half-full Wembley.
Allardyce's appointment was always going to provide the answer to a question that had become tiresome. Finally we would know what happened if he got the job. Could the son of Dudley turn into the mythical Allardici of his own imagination, infusing England's players not merely with bullish confidence but with sophisticated tactical awareness? Or would he prove true to the negative stereotype, the purveyor of bluster and big-boot football still trailing the noxious fumes of a BBC Panorama investigation?
Before his downfall he had showed all the signs of going the way of Steve McClaren. The brash facade quickly gave way to a series of mistakes, the first in cancelling a potentially useful friendly against Croatia followed by errors of selection and tactics and then to an absurd attempt to gloss over his captain's incoherent performance by claiming that it is "not for me to say where to play Wayne Rooney". Possibly the most bizarre comment ever made by a serving England manager, this should have put doubts into the minds of the FA even before the news of the Daily Telegraph's fatal sting.
So now we know. Allardyce was brought down by his failure to recognise the different standards of behaviour demanded by the position he prized so greatly. Those standards were not, after all, so hard to recognise and observe: act with a little discretion and – just for two years – rise above the rest of the creatures grubbing around in football's money pit. Not much to ask, for £3m a year.
In the case of Clough, we will never know how it might have turned out. A couple of months after that Switzerland stalemate 39 years ago, having guided England to victories over Luxembourg away and Italy at home in the meantime, Greenwood got the job full-time in preference to Old Big 'Ead, whose brand of self-confidence had not impressed the FA's committee men. Neither were they influenced by his success, in partnership with Peter Taylor, in getting Nottingham Forest promoted to the top flight and by their start – P18 W12 D3 L3 – to a season that would see them capturing the First Division title.
That was something Greenwood never achieved. But he was an enlightened thinker about the game under whose aegis at West Ham three of England's heroes of 1966 had grown and prospered, and the FA had let it be known that they were looking for someone who would not just manage the senior international team but take control of the entire England coaching structure. Clough might not have been interested in that aspect of the mission statement. He would also have needed Taylor with him, and together they carried quite a lot of baggage that might have been prised open by the 1970s equivalents of the "lads" who did for Allardyce.
It is also questionable whether the environment of international football would have suited Clough who, even though his players often did not see him from Saturday night to Friday morning, appeared to thrive best once he had created a kind of family atmosphere. He was a strategist, and international football requires tacticians. Given only short periods of time with his squad, he might also have found it difficult to keep all the big egos happy.